Last Update: Chappy wins
A B C D E F G H I J K M O Q U V W X Y Z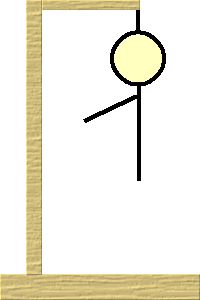 Can you beat the hangman ?
$10k prize (+ rollover if applicable) from my admin char plus all monies taken from purchased vowels.
RULES
It costs you 5k (to my admin char) to purchase a vowel - you may post your vowel on the thread prior to making the xfr (to avoid conflict due to timing) but I'll check before updating to make sure the money has been sent :p

Purchasing a vowel gives you a free guess at the word without the penalty of elimination if your guess is incorrect. NB. Failure to post your guess within 5 mins of my "updated" text and the game is re-opened for other players to choose additional letters. A max of one vowel can be purchased by any one person during a single game. Apologies in advance if you guess a vowel and then miss my subsequent update because I've been afk at time of your post, but it's only 5k so don't give me a hard time...

I'll update the post as often as I can with the first entry after each update being the only one considered. (If there are multiple entries after my update, due to timing or because you've not read these rules, I'll delete them).

Incorrect guesses of the final word will rule you out for the remainder of the game and make you look silly so don't spoil it for others by getting it wrong. Only provide a final solution if you're pretty sure it's correct please :p
If this works well then I'll make the prizes for future games much more interesting.