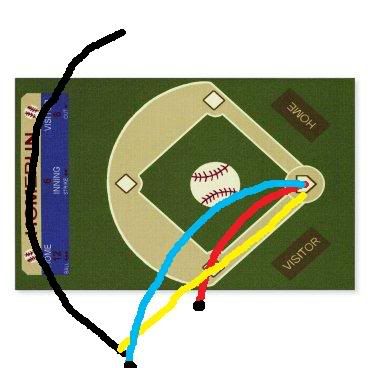 The Red line is a line drive hit that lands in foul play but is considered a fair ball because it is fair when it goes over the 3rd base bag in the air. The blue line, however, is also 'fair' when it goes over the 3rd base bag in the air, but it lands in the stands past the home run wall but also in foul territory. Why is this? Because of the stands and it being non-playable? I just really think it's stupid to have foul lines if you're not really going to use them...
Now for the controversal 'no goal' call in the blues game last night:
"""* Boyes tapped in his own rebound at 13:30 and Perron's tip-in tied it about 2 1/2 minutes later. St. Louis nearly got the go-ahead goal with 1:54 to go in the period after several players hacked away at the puck while Luongo was on all fours and Jay McClement finally tapped it over the line, but the goal was denied after a lengthy review because referee Marc Joannette had lost sight of the puck and
intended
to whistle the play dead.
Bob Hall, NHL supervisor of officials in charge of the game, said Joannette's whistle hand went up as the Blues began to attempt to jam the puck over the line.
"He meant to blow the whistle," Blues coach Andy Murray said. "He never did, but the rules say that's enough." *""" -
ESPN.go.com
Now my question is, WHY IS THIS A FRIGGIN RULE? He MEANT to blow the whistle at that time?!?
Story time, so if I were to get pulled over for speeding, I could tell the cop, well, I was in the process of slowing down when you clocked me, so really you shouldn't give me a ticket.
I DON't think so, that would never happen. So why does it here? Whistle is a whistle, swallow it when you aren't sure of the call, keep it in your mouth ready to make the call when you KNOW what IS going on... It was in well before the whistle, trust me, I went back through my DVR plenty of times. I just do not understand ignorant rules in pro sports that are obviously stupid. IE NFL OT Rules, coin toss wins the game essesntially.
/rant