I noticed today that all of a sudden I couldn't beat an opponent I've had on my fightlist for a week or so. I looked into why, and found that his clan had activated a ritual... which apparently grants him a little more protection than advertised.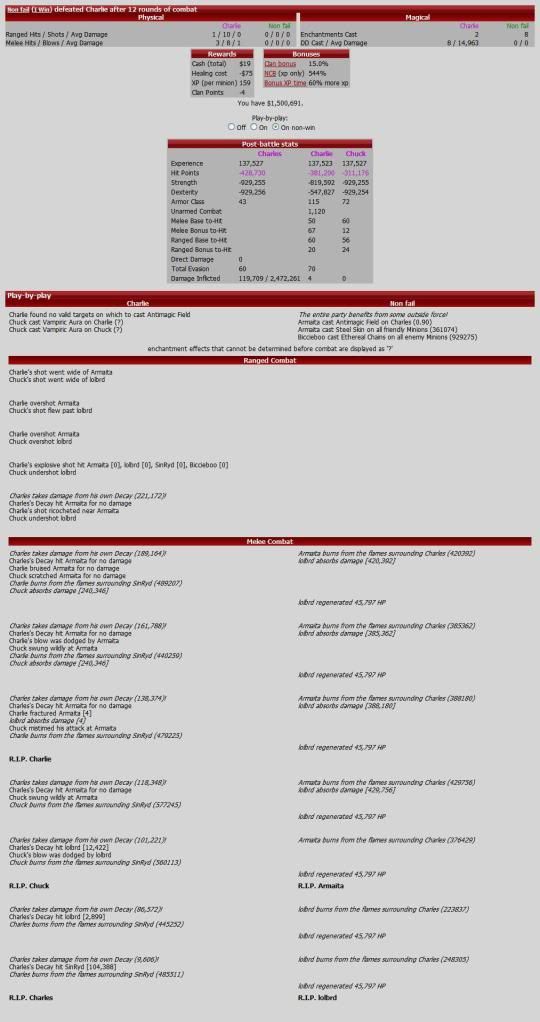 Firstly, look how few times I hit him with physical combat. The character has no Evasion trained on any minions, 23k Dexterity on the minion with the most (compared to my 500k), and no DBs. Why am I missing so much with full DX advantage and the PTH listed?
Secondly, my SoD does no damage to any of his minions when it does hit. I would almost say that this is understandable for minions 2 and 3, since they have high protection against splash damage from AC + SS and from RoBF, but why for the other two?
My Decay also does no damage, though that looks like it might just be because the first guy has 20 HP and AMF got it to .90.
The clan ritual in question I assume to be Blessed because it's the only Varda ritual that would help them benefit from an outside force. Does the 10% increase in magic somehow get misapplied with regard to Steel Skin? Because it seems like this team has quite the unwarranted damage reduction.
For the record, I wasn't really examining the fight logs too closely when I was winning, so some of this may represent a bug not entirely related to the ritual. All I know is that I probably killed the 20 HP minions in ranged usually.